Betway is one of the biggest and most respected sports bookmakers in the world. Malawi customers can now sign up for Betway in Malawi and find out what all the excitement is about. This Betway registration review will tell you everything you need to know and how to claim a bonus too.
100% up to R1,000

18+. In order to qualify for the Betway Sports Welcome Offer, new customers must make a deposit and place sports bets equal to 3x the value of their first deposit at odds of 3.0 or more. Customers have 30 days from first registration to meet the minimum qualification criteria. The Sports Welcome Offer Free Bet will be capped at R1,000. Free Bet may only be used on sport, excluding horse racing. A Free Bet is available for a maximum of 180 days from the date that the Free Bet was credited. The maximum return on any Free Bet is R5,000.00.

Visit site
Read on to find out how to register on Betway in Malawi.
How to Register on Betway – Everything You Need to Know
Completing Betway registration in Malawi is very straightforward. You can finish the process very quickly and then go explore one of the best places to go for online betting in Malawi.
Here is our step-by-step guide to the Betway Malawi registration process.
Go to the Betway Malawi online sports betting site.

Tap the green 'sign up ' button in the top right hand corner of your screen.
You will need to enter your mobile phone number, your name and decide on a security password for your Betway Malawi account creation.

Then tap the 'next' button on the Betway Malawi registration form.
Next, enter your birth date and your address.
You may get a chance to enter a Betway promo code at this point.
Tick the boxes to say that you are fine receiving information about Betway Malawi bonus offers.
Then tap the 'register' button to complete Betway registration in Malawi.
Security – Verifying Your Identity and Adding Personal Information
Under Malawi laws and regulations, you will be asked to provide further personal information after depositing MWK 500,000. Betway Malawi will get in touch to tell you what identity documents are needed – and how to send them.
Betway Malawi may ask you for further verification documents at any time. But they will tell you exactly what they need to see and how to upload them. You can still complete the Betway Malawi registration process first.
Payment Methods to Deposit Funds After Registering with Betway
Once you have completed Betway Malawi mobile registration you will be able to explore the sports betting site. But to place a bet you will need to first make a Betway deposit. This is another very simple process to complete.
The two payment methods you can use to make a deposit after completing the Betway Malawi registration process are:
TNM Mpemba.
Airtel Money Online.
You may find that there are some Betway Malawi bonus offers when you make a deposit. All of these promotions will be highlighted on the site.
Here is how to make a Betway deposit in Malawi.
Go to the Betway Malawi site and log into your customer account.
Go to the account section.
Select 'deposit funds'.


Then select one of the Betway Malawi deposit methods that you prefer.
Check that the mobile phone number listed is your registered number.
Select or enter the amount that you wish to deposit.
You will receive a message to confirm that the transaction has gone through.
Claiming the Betway Welcome Bonus
When you complete the Betway registration process you will be able to claim a bonus from what is considered by many to be the best online bookmaker in Malawi. There is no actual welcome bonus at Betway at the moment. But you can claim any of the promotions and offers that are currently running.
One of the favourite bonuses at Betway Malawi is the 700% win boost offer. This is where you can boost your winnings on an accumulator bet. The bonus percentage increases when you add extra selections to your bet.
All Betway Malawi terms and conditions for promotions can be found on the site. Once you have completed Betway registration you will be able to take a look and claim any that take your fancy.
How to Use the Betway Website and Place Your First Bet
The main reason to sign up for Betway in Malawi is to place bets, of course. After you have completed the Betway registration you will be able to see just how many betting options you have with this operator.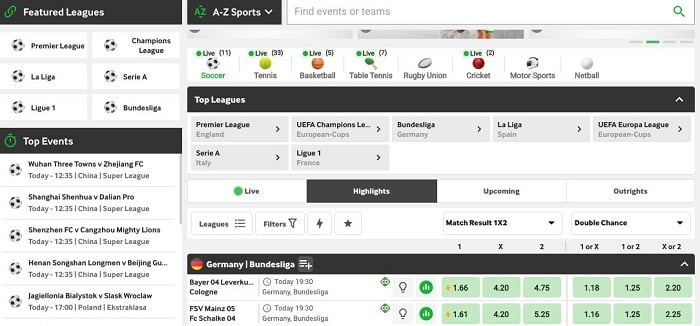 Placing a bet is very simple, even if you are relatively new to Malawi online sports betting. We will go through the betting procedure in a moment. But first we thought we would tell you all about the different betting markets available at Betway Malawi.
There is an excellent range of betting options at Betway. You can choose from markets covering all the big sporting events from around the world. But there are also more local markets too.
All the big sports are covered:
Football.
Tennis.
Basketball.
Golf.
American Football.
Motorsports.
Rugby Union.
You can search for a specific betting market or just browse the full selection on the Betway Malawi site.
Placing a bet is also very easy. You will need to have completed Betway registration first though. It depends on the type of bet you are placing – but the general process is the same. So here is a quick step-by-step guide.
Log into your Betway Malawi customer account.
Go to the betting markets.
When you have decided on a bet, tap on the odds next to your selection.
Your pick will automatically be added to the betslip.
You will then need to decide on the amount of your stake.
Enter the amount and you should see what the potential winning returns would be.
If you are happy with your decision you can then place the bet.
Additional Promotions and Bonuses Available at Betway
As we mentioned before, there are a number of ongoing promotions and offers available for Betway customer account holders. Once you have completed the Betway registration in Malawi you will be able to see what is on offer for yourself.
Promotions can change all the time, so there may be a wider range of bonuses available when you visit the site. But the following offers were available at the time of writing and are a good example of what can be claimed after you have completed Betway registration.
✅ Build a Bet
If you don't like the look of many of the betting options in the main betting section you can always build your own. Select any of the markets that you like and build them into one big bet.
✅ Get Up to 20x Your Bet Back
Build a bet with at least six selections and you could receive 20x your stake back as a refund if just one of the legs loses.
✅ Cash Out
Customer account holders are also able to claim winnings before an event has finished with the cash out feature. Don't wait for the event to take a turn against you – cash out and take something from your wager.
✅ Win Boost Up to 1000%
This promotion offers customer account holders the chance to win even bigger pay outs, Add more selections to a multi-bet and the winnings will increase. The more selections you add, the bigger the winning returns could be.
As with all promotions with online sports betting operators, all these come with terms and conditions. They are all on the Betway site, so take a look there before claiming any of the offers.
What to do if Registration for Betway is Not Working
From time to time you may find that you have some kind of minor problem when you try to complete Betway registration. The issue is usually only temporary but it can be frustrating.
Here are a few of the more common issues for potential Betway Malawi customers – and what you can do to fix the problem.
❓ There Has Been a Problem, Please Try Again
You might see this error message for a number of reasons. It won't be anything that you have done though. Just follow the advice and try again later. You should not have any further problems trying to sign up for Betway in Malawi.
❓ Access Denied
This message might appear if you are trying to access the Betway site using a VPN. Because of different regulations in different countries and regions, Betway may not be available. Make sure that you are trying to access the site from within Malawi and this message will disappear. Then you can complete Betway registration.
❓ The Website of Betway is Down
This is another issue that will have nothing to do with what you are doing. The Betway Malawi site will sometimes be unavailable because of maintenance. If the site is down, just wait a little longer and try again.
❓ Other Potential Common Problems
Many people who complete the Betway Malawi account creation use their mobile phones to access the site. But you will need a good connection or wi-fi to do this. Ensure that you have enough data on your phone and that the connection is strong to continue. If any issue persists you can always contact Betway Malawi customer support for help.
How to Log Into Betway After Registering
If you thought the Betway registration in Malawi process was straightforward, you will really like logging in after. You will need to log into your customer account every time you want to place a bet. But it is so easy to do!
Go to the Betway Malawi site.
Enter your mobile phone number in the box provided at the top of the page.


Then enter your security password.
Finally, tap the 'login' button to access your account.
What are the Features You Can Use After Registering for Betway?
Betway is one of the best online sports betting sites in the world and you should really enjoy the experience of checking out the features on offer. Once you have completed this online bookmaker registration you will be able to explore all of these.
| 🌟 Features | ✅ Advantages |
| --- | --- |
| Live Betting | Bet on events that are still happening |
| Stats and Information | Make well-informed bets |
| Promotions | Get free bets and win boosts |
| Betway App | Learn everything about it on our Betway App page |
🌟 Live Betting
This is the most popular way of betting all around the world these days. Betting on live events gives you the chance to time your selections to perfection in order to get the best odds. You can follow the action and make your predictions as the event is still going.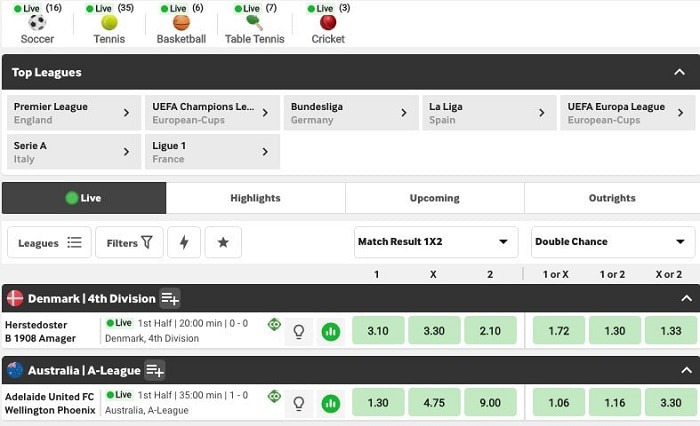 🌟 Stats and Information
As well as betting markets and odds from all over the world, customers can also find information to help with their selections. Just search the site for the statistics and information you need to inform your bets. When you know more about the event you could have a better chance to win your bet.
🌟 Promotions
We have already mentioned the promotions at Betway Malawi in this Betway review. But they are so good that we thought we would highlight them again. Choose from a selection of offers to help with your betting and have a better experience on the site.

How to Register on Betway FAQs
If you want more informations about this bookmaker, don't hesitate to check our full Betway Review.
Betway is one of the biggest names in sports betting and if you register for a customer account you will be able to access a wide range of betting options with very competitive odds. Completing an online bookmaker registration here will open up a lot of possibilities.
You can use TPN Mpemba and Airtel Money as one of your Betway Malawi deposit methods. You can also use them to make a Betway withdrawal as well.
Finding your way around the Betway Malawi site is very easy. Just explore to find a suitable bet and then follow the simple instructions to place a bet.
There are always some other offers and bonuses available at Betway. Head to the promotions page to see what is currently running.
Yes. Betway is completely safe and licensed by the Malawi Gaming and Lottery Authority. Your money is completely safe and secure.