The first thing to do after completing the 1xBet registration process is to deposit into your account. This deposit guide takes a deep dive into 1xBet deposit, looking at the various deposit options, the deposit process and some of the problems you may encounter when trying to deposit on 1xBet Malawi.
100% up to 221000 MWK

18+. Minimum deposit: 1$ or equivalent currency. Switch to your bonus account and wager the bonus amount 5 times in accumulator bets. Each accumulator bet must include 3 or more events. At least 3 of events included in such bets must have odds of 1.40 or higher.

Visit site
How Do I Make a Deposit on 1xBet in Malawi?
Before we go into the 1xBet deposit process, you can check out our 1xBet review to see all you get when you bet on 1xBet Malawi. The deposit process is also available on the 1xBet app, and you must use the 1xBet promo code to get the welcome bonus with your first bonus. Below we give a generic step-by-step 1xBet Malawi deposit guide on how to deposit with 1xBet in the different channels.
Payment Systems
Follow the steps below to complete the 1xBet Malawi deposit process using payment systems.
Log into your 1xBet Malawi account and click on the 'Deposit' button.


Select the Payment sytem channel and enter the amount you want to deposit.
You will be redirected to a secure payment page to complete the transaction.
Enter your pin to authorise the transaction and the deposit will reflect in your account.
E-vouchers
Follow the steps to complete the 1xBet Malawi deposit process using e-voucherst cards.
Visit the 1xBet Malawi website and log into your account.
Click the 'Deposit' button at the top of the page.
On the deposit page, select the e-voucher option.
Click on Continue and enter a voucher pin
The bookmake will check the voucher code and authorise it if it is correct.
Your account will be updated with the new amount.
E-wallets
Follow the steps to complete the 1xBet Malawi deposit process using e-wallets.
Log into your account on the e-wallet website.
Go to payments and find the betting section.
Choose 1xBet from the list of bookmakers and enter how much you want to deposit.
Authorise the transaction by entering your pin, and the deposit will be processed.
Cryptocurrency
To deposit using cryptocurrency, you need to contact the customer care team to find out the address to send the money.
Popular Deposit Methods on 1xBet in Malawi
Here are some popular 1xBet deposit and withdrawal channels:
Payment systems.
E-vouchers.
E-wallets.
Cryptocurrency.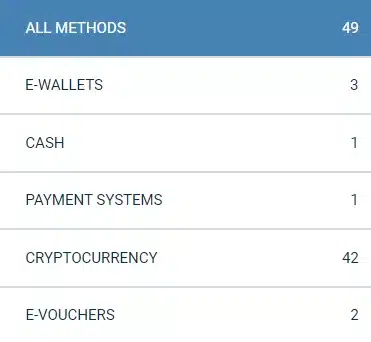 These are also the channels you can use to complete the 1xBet withdrawal process.
Payment Systems
You can deposit with payment systems. To do so, you must have an account with the payment systems available on the 1xBet Malawi website. The minimum deposit in Malawi is $1 or its equivalent. There is no specified maximum deposit amount. It is free to use e-and it is instant.
E-wallets (Skrill, ecoPayz, etc.)
Bettors with better technological knowledge can decide to use e-wallets which simply act as a wallet where you store money and make payments also. The different e-wallets have several limits, but the 1xBet deposit minimum amount is $1, and there is no specified maximum amount. It is free to use this channel, and it is instant, and you can use it when you want to deposit using a foreign currency.
Cryptocurrency
Finally, 1xBet offers cryptocurrency payment in all of the countries of operation. So you have that option, too, in 1xBet Malawi. The minimum deposit amount is $1, while the maximum is not specified. Using cryptocurrency is risky, and if you are not familiar with it, then you should stick to the common ones.
We summarise this section by comparing the different deposit methods in the table below.
| 💵 1xBet Deposit options 💵 | Minimum limit | Maximum limit | Cost | 1xBet deposit time |
| --- | --- | --- | --- | --- |
| 💵 Payment systems | $1 | Not specified | Free | Instant |
| 💵 e-Vouchers | $1/ $10 | Not specified | Free | Instant |
| 💵 Cash | $1 | Not specified | Free | Instant |
| 💵 e-wallets | $1 | Not specified | Free | Instant |
| 💵 Cryptocurrency | $1 | Not specified | Free | Instant |
Tips for Making a Successful Deposit at 1xBet
Here are some tips for making a successful deposit in Malawi.
Ensure that you are connected to the internet before making any deposits, as all the deposit channels on the bookmaker require an internet connection.
When possible, deposit using the same process you can withdraw with. If you deposit with your e-wallet account, then also withdraw with the same e-wallet account.
Don't deposit using cryptocurrency unless there is no other option. If you deposit with cryptocurrency, you won't receive any bonus.
Always deposit in the local currency. When you deposit in other currencies, you can lose some of the money in conversion fees and low exchange rates by the payment companies.
Don't make third-party deposits. It is important you make the deposits into your account. The bookmaker flags deposits that come from third-party accounts.
Protect your data by ensuring you are depositing on the official 1xBet Malawi website. Look out for the correct URL and the padlock logo beside it to confirm that the website has SSL protection.
Instead of depositing small amounts, have a weekly or monthly budget and make bulk deposits. This makes it easier to track your deposits and betting stakes.
Some bonus options on the bookmaker, like the welcome bonus, Lucky Friday, and X2 Wednesday, all have minimum deposit amounts. Ensure you are depositing up to that amount to unlock the bonus.
Common Deposit Problems and How to Solve Them
The deposit process is simple, even though you can encounter some issues. These issues range from connectivity issues to payment channel problems. In this section of the deposit guide, we analyse some common deposit problems at 1xBet and how to resolve them.
However, if you encounter any deposit problem that is not on this 1xBet Malawi deposit guide, feel free to reach out to the customer service team and inform them of the problem.
Slow Internet Connection
All the 1xBet Malawi account funding methods require internet connection for you to use them. If you have a slow internet connection, you may not be able to complete the process. This is a very simple problem to solve. Just move to a location with a better internet connection or connect to a fast and reliable WiFi.
Depositing Below or Above the Deposit Limit
There are 1xBet deposit limits for all the channels. There is the deposit minimum amount which is the equivalent of $1.
However, there is no maximum deposit amount, but for each channel you want to deposit with, you may have to figure out the maximum you can move out of that account before starting the process. If you try to complete the deposit process with the money lower than or higher than the limit, you won't be successful.
Lack of Authorisation
Before you are able to move money from your money account to your 1xBet account, you must authorise the transaction. This authorisation can come in the form of inputting a pin, a one-time password or a pin from a physical token.
So you must ensure you have the form of authorisation that the payment channel you want to use accepts before you start the deposit process. If you don't, then you won't be able to make deposits, and if you put in the wrong authorisation pin more than necessary, you may block your account.
Third-party Deposits
Always make deposits from your own money accounts. Trying to deposit using another person's account can cause the bookmaker to flag your account and restrict you from receiving the money into your 1xBet account.
Conversion Problems
The bookmaker has localised the deposit process, which means that you can deposit in Malawian Kwacha(MWK). But you can also deposit if you use any of the e-wallets that support other currencies. The only issue is that currency conversion is not possible on some channels. The simple way to solve this is to convert the foreign currency and deposit it in the local currency.
Payment Channel Problems
Some 1xBet deposit problems may not come from your end but the payment channel you are using. Sometimes, the e-wallet channels could be down, or the website could be on maintenance. If you try to deposit at that moment, it won't be successful. So you must check and contact the customer service team of the payment channel you want to use if you suspect the channel is down.
If you seek more information about 1xbet, please don't hesitate to check our Complete 1xbet Review.
Deposit with 1xBet in Malawi – FAQs
To conclude our 1xBet deposit guide, we answer some frequently asked questions about the 1xBet Malawi banking methods and the deposit process.
There are 4 major deposit methods available for bettors in Malawi. There are payment systems, e-wallets, cryptocurrency, etc.
To make a deposit on 1xbet using your credit or debit card, you must log into your account and click the 'Deposit' button. Select the credit card option and enter the amount you want to deposit. Authorise the transaction by inputting your card pin or one-time password, and your deposit will be successful.
If your deposit is not going through, then you can try a new deposit channel. There are about 4 deposit channels. If none of them are going through, then you have to contact the customer service team.
You will know that your deposit process was successful when you check your balance and see the amount you deposited there.
There is no bonus for making 1xBet deposits, but you can get a deposit bonus if you are a new customer and it is your first deposit. You can also get a deposit bonus every Friday on your first deposit if you meet the requirements of the Lucky Friday bonus.