BetWinner has some of the best sports betting markets in Malawi. Since 2018, its impressive design layout with simple navigation settings ensures players can quickly create an account, fund, and place bets. All bonuses and competitive odds are available whether you bet on mobile or PC. It also boasts a strong casino section, active customer support, etc. This is why we're offering here a Betwinner Registration guide for Malawi users.
This online bookmaker provides a straightforward BetWinner registration process. In this guide, we will provide a detailed step-by-step guide on how to register on BetWinner in Malawi. Some bettors face issues when creating an account, and we will discuss these common problems and offer solutions too.
Valid in

---
---
🔍 How to Register on BetWinner – Our Step-by-step Guide to Open an Account in (2023)
BetWinner registration is simple and quick regardless of the means you choose. Whether you're using a computer, mobile device, or BetWinner app, the bookmaker provides four different ways to register BetWinner accounts. You can register via your phone number, one click, email and social networks.
Furthermore, the bookmaker requests basic information like your phone number, password, and full name during your BetWinner registration process.
I have included a step-by-step guide to each of the BetWinner sign up methods.
To begin betting on the BetWinner Malawi website, you need an account. Here's a guide on how to proceed.
Go to the official website and click "Registration" on the top right corner of the homepage.
Select the welcome deposit bonus you want between sports betting and casino at the left-hand side of the resulting page.
BetWinner Malawi offers four different options for creating an account. They include "By Phone," "One-Click," "By Email," and "Social Networks and Messengers."


Using the By Phone method: Click "By Phone" and enter your phone number starting with the country code (+265). Click the "Send SMS" and enter the confirmation code BetWinner will send to your phone number in the space provided. Next, choose your preferred currency from the list of options available. Enter a BetWinner promo code (optional) and click "Register." Remember to tick the box that confirms you've read and will abide by the terms and conditions.


Using the One-Click method: Click "One-Click," and select your country (Malawi) from the options. Then choose a suitable currency and enter a promo code if you have one. Click the box below that confirms you will abide by the terms and conditions. Finally, tap "Register."


Using the By Email method, click "By-Email," and select your country and city. Choose your preferred currency (Malawian Kwacha), and type your email address. Like other options, all bettors must confirm that they will abide by the terms and conditions and can enter a promo code if they have one.
Using Social Networks and Messenger: Select "Social Networks and Messengers". Then select your country and currency and tick the box to show you've read the privacy policy and terms and conditions and are of legal age.
📱 Using Phone Number
You can open an account on BetWinner with the following steps using your phone number.
Visit the BetWinner website via your device browser
On the homepage, locate and click the yellow button tagged 'Registration' at the top of your screen.
On the resulting page, click the 'By Phone' registration option.
Next, enter your phone number and press the "Send SMS" icon for the bookmaker to send you a code. Ensure the phone number is valid and correct to allow the bookmaker to send the code successfully.
Then enter the confirmation code sent to your phone number in the space provided and click the "Confirm" icon.
Next, select Malawian Kwacha as your chosen currency.
After that, enter a promo code if you have one and tick the small box at the bottom of the registration page. This will show that you are of legal age and have read the bookmaker's privacy policy and terms and conditions.
Finally, click the "Register" icon to complete your registration.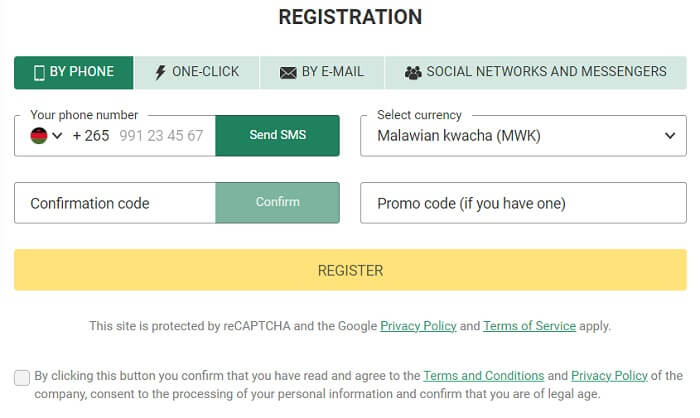 🖱️ Using One-Click
Follow the steps below to register an account using one-click.
Visit the BetWinner website on your favourite browser or the app.
On the homepage, locate and click the yellow button tagged 'Registration' at the top of your screen.
On the resulting page, click the 'One-Click' registration option.
Next, select Malawi as your country and Malawian Kwacha as your currency.
Enter a promo code if you have one. Then, click the box at the bottom of the page to ascertain you are of legal age and have read the bookmaker's privacy policy and terms and conditions.
After that, click the "Register icon" to finalise your registration.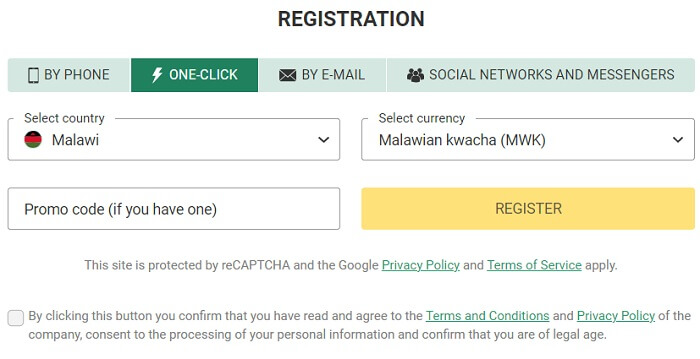 📧 Using Email
If you want to register using email, follow these steps.
Visit the BetWinner website via your browser or mobile app.
On the homepage, locate and click the 'Registration' icon at the top of your screen.
On the resulting page, click the 'By Email' registration option.
Select Malawi from the list of countries and select your city.
Choose your preferred currency as Malawian Kwacha.
After that, enter your email address, phone number, first name, and surname in the spaces provided.
Next, enter your chosen password and re-enter the password in the spaces provided. You can also allow the bookmaker to generate a password for you.
Enter a promo code if you have one, and tick the box on the page to show you have read the website's privacy policy and terms and conditions. This will also certify that you are of legal age.
Finally, click the "Register" icon to finalise your registration.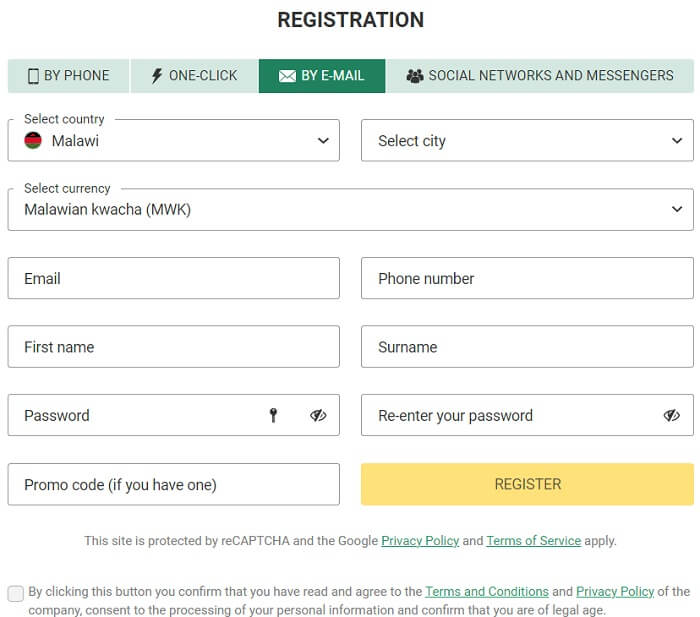 🤳 Using Social Networks and Messengers
The steps below will show you how to use social networks to open an account on BetWinner.
Visit the BetWinner website via your browser or mobile app.
Click the 'Registration' icon at the top of the homepage.
Click the 'Social Networks and Messengers' registration option on the resulting page.
Select one of the social networks available on the registration page to proceed.
Then select Malawi as your country and Malawian Kwacha as your chosen currency.
Tick the box on the page to show you have read the website's privacy policy and terms and conditions. This will also ascertain that you are of legal age.
Finally, press the "Register" button to complete the registration.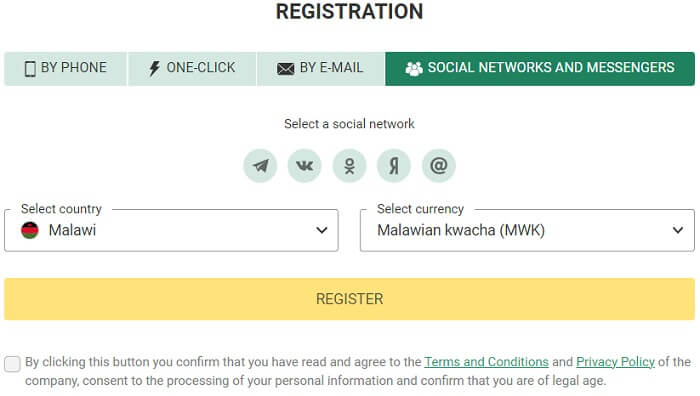 🔐 Security – Verifying Your Identity and Adding Personal Information
BetWinner Malawi offers a straightforward process for account verification. Unlike other online bookmakers, BetWinner allows its customers to email customer support at security@betwinner.com for verification.
Documents to produce include a driver's permit, national ID card, permanent voters card, or a travel passport. You may also need to complete your profile by filling in appropriate information if you have completed the BetWinner registration using the One-Click, By-Phone, or Social Network method. Bettors will enter their names, surnames, email address, and other needed information.
The bookmaker requests verification to protect customers and comply with Malawi's betting rules and regulations. It will also certify that you are the actual owner of the account and that BetWinner does not promote internet fraud.
💵 Payment Methods to Deposit Funds after Registering with BetWinner
BetWinner Malawi ensures all bettors can fund their accounts and get payouts via reliable payment methods. More than 50 payment options allow you to get convenient means of funding. Our BetWinner review shows this collection includes local banking methods to aid in the ease of deposits. Click your "Account" tab and select "Make a Deposit" or "Withdraw Funds" to see the available payment methods.
💵 How to Deposit Funds on BetWinner?
As stated, the BetWinner deposit options in Malawi are more than 50. They include:
Cryptocurrency (Bitcoin, Ethereum, Bitcoin Cash, Dogecoin, Ethereum Classic, Ripple, Litecoin, Monero, Solana, etc.)
Bank cards (Visa and Mastercard)
E-wallets (Skrill, Perfect Money, Skrill 1-Tap, AirTM, Sticpay, Jeton Wallet, etc.)
Payment Systems (ecoPayz)
E-vouchers (Jeton Cash)
You may pay a transaction fee to cover the deposits, depending on your payment method. All requests come with a fast processing time, regardless of your chosen payment method.
Although there are limits for the different methods, they differ depending on your payment method. Bank cards start at 550 MWK, which is the lowest. Our BetWinner deposit page provides all the step-by-step guidance you need to fund your account without issues.
💵 How to Withdraw Funds on BetWinner?
You can easily withdraw from your BetWinner account using any of the options. However, unlike the deposit methods, this online bookmaker limits the payouts to just below 50 methods. Here's a list of the different methods you can use to place a withdrawal request:
E-wallets (Perfect Money, Jeton Wallet, AirTM, Sticpay, Piastrix and Skrill)
Payment systems (ecoPayz and Payeer)
Cryptocurrency (Bitcoin, Ethereum, Solana, TRONN, Bitcoin Cash, Ethereum Classic, Ripple, Litecoin, Dogecoin, etc.)
Payouts occur between 24-72 working hours. Players can easily choose from top options to fund their accounts depending on which option you can select. The minimum withdrawal depends on the payment method you use. Get a concise guide on payouts using our BetWinner withdrawal page.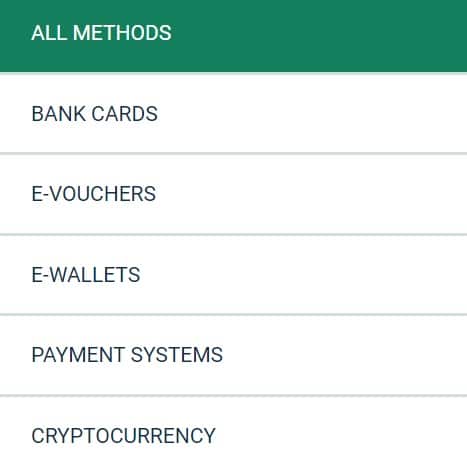 🌟 Claiming the BetWinner Welcome Bonus When Registering
BetWinner offers its new customers a top welcome bonus to claim. This includes a special reward of a 100% bonus on the first deposit of up to 112562 MWK. All players must complete the personal information form on the "My Account" page to claim this bonus. They can use the BetWinner promo code in Malawi when registering.
This bonus comes with a minimum deposit of 1125 MWK and stops at a max of 112562 MWK. You must also opt for the online sports betting bonus on the BetWinner registration page, deposit page, or in the account settings.
This reward comes with a 5 times rollover requirement, and all accumulator bets should come with a minimum of 3 events, carrying 1.40 odds or higher. Deposits you make via cryptocurrency are ineligible for this bonus, and you must use this reward as a standalone.
📱 How to Bet on Mobile with the BetWinner Bonus Code?
Like the PC version, BetWinner allows its customers to place sports bets from the comfort of their smartphones comfortably. Downloadable software is available for iOS and Android users from the BetWinner Malawi homepage.
The app offers all the sports betting markets, casino games, and other speciality markets to wager on. After downloading, you can also start and complete the BetWinner registration process on the mobile app without issues and claim the deposit bonus.
Alternatively, you can always settle for the BetWinner mobile registration in Malawi browser option. You only need to visit the online bookmaker from your mobile browser and log in, and it also comes with different registration forms.
How to Download the BetWinner iOS App
iOS App
Apple users will find the software available on the BetWinner Malawi homepage. If you have an iPad or iPhone, visit the BetWinner website and follow the steps to get the app:
On the homepage, you will see the iOS device logo.
Click on the download button, and the process will begin within seconds.
Follow the instructions to start the installation.
How to Download the BetWinner Android App
Android App
If you use an Android device, please check the steps below to download the app.
To get the Android app, visit the BetWinner website on your device or tablet.
On the homepage, scroll to the footer and find the "mobile application" section.
Tap the "BW Download the App" to begin the download process.
Then tap the "Download" button to download the apk file.
The file will download, and you can install it immediately after.
Ensure to go through with the installation by ensuring you can install from sources other than the Google Play Store.
🌟 How to Download the APK Betwinner App
Fortunately, Malawi is among the few countries where the BetWinner app is available for download. Whether you use an Apple or Android smartphone, you can get the BetWinner Malawi app from the website.
The Android version of the app is in the apk file format, which you can download from the bookmaker's website. Simply follow the instructions to get the app for your device. Remember that there are specific minimum requirements your phone must have before the installation is successful.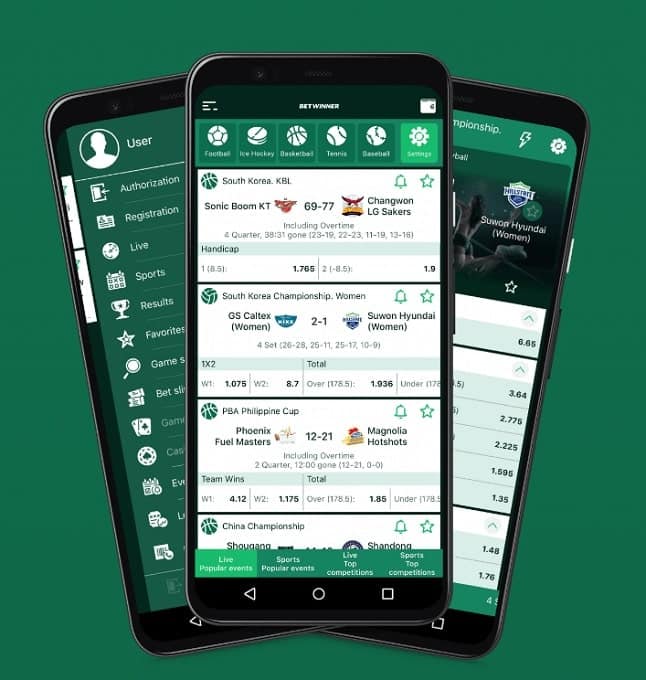 🏆 Additional Promotions and Bonuses Available on BetWinner
Asides from the rich welcome bonus BetWinner has for new customers, there are other promotions to grab here.
🥇 Nil-Nil Draw
The next top offer is the "Nil-Nil Draw." Players get up to 22423 MWK if the first half of a match ends in a goalless draw. Place a single W1 or W2 bet for games on the promo page to grab this offer.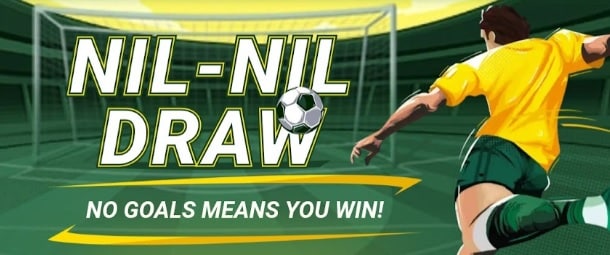 If your first bet on the match loses and both teams score no goals at halftime, you get a promo code worth up to 22423 MWK for the next bet. This offer is open to one bet per match and won't apply to void bets.
| BetWinner offer | Bonus details |
| --- | --- |
| Nil-Nil | Get up to 22423 MWK if the first half ends in a draw |
| Minimum odds | Not Available |
| Maximum cashback | 22423 MWK |
🥇 The Big Game
"The Big Game" package allows you to place bets and get a 100% refund of up to 11211.13 MWK if it loses. Terms and conditions include placing a correct score bet with a minimum stake of 5605.57 MWK. The offer is only available for regular members and applies to the first bet on a match. All bets that carry a promo code do not qualify.
| BetWinner offer | Bonus details |
| --- | --- |
| The Big Game | 100% refunds on lost bets up to 11211.13 MWK |
| Minimum odds | Not Available |
| Maximum cashback | 11211.13 MWK |
What to Do If Registration for BetWinner Is Not Working?
BetWinner as an online bookmaker, provides an excellent registration process. However, it is possible to run into issues when creating an account. Here are some common issues most Malawi bettors face and how to solve them.
❌ "There has been a problem. Please try again."
This is a common issue that occurs when there is a poor internet connection. Instead of the BetWinner page loading, this error message shows, which won't allow you to place bets.
To solve this, we recommend refreshing the site multiple times. Alternatively, switch to a different internet service provider to see if you get a better internet connection. If the error message still shows, restart your device.
❌ Access Denied
An "access denied" error occurs if you're trying to complete the BetWinner registration using a VPN. BetWinner's powerful geo plugin detects if you're signing up from a different jurisdiction. We recommend only registering if you're in Malawi only.
❌ The Website of BetWinner is Down
If you can't load the BetWinner website, the site is unavailable or down. You can easily find the reason for the issue by checking the website's status, which will help you find the reason for the downtime.
❓ How to Log in to BetWinner after Registering?
Logging into the BetWinner site is straightforward, and the process is the same whether you're signing in via your mobile app or PC. Here's how to gain access.
Go to the official website and click on the "Log in" button at the top of the homepage.
Select between the Email/ID or phone number to gain access.
Enter your ID/Phone number/email address and password to gain access.
Tap the "Log in" icon at the bottom of the form to access your account.
If this bookmaker suspects an illegal login, you may be required to pass a small verification test. You can also use the "Forgot your Password?" option if you lost your login details.
What Are the Features That You Can Use After Registering on BetWinner
BetWinner is among the top betting sites with an impressive range of features for customers. Among them is the unique mobile app with all the products on the website. Here are other options to look forward to.
✅ Live Betting and Streaming
BetWinner offers top statistics in live streaming. You can get live updates directly on the mobile app, and this also matches the impressive odds you will find in the live betting section.
✅ Bonuses
New and existing customers at BetWinner can load top bonuses and promotions. Complete the BetWinner registration and claim a top offer of up to 112562 MWK. A separate offer is also available for casino players – another top package from BetWinner.
✅ Customer Support
This online bookmaker has direct Betwinner customer support in Malawi for all bettors. Options include live chat, email and phone, and are available 24/7.
| Feature | ✅ Advantages |
| --- | --- |
| Live Betting and Streaming | Wager on ongoing games and watch your favourite team live from the bookmaker's website. |
| Bonuses | Claim the welcome bonus offer and other available promotional offers for existing customers |
| Customer Support | Contact customer service representatives when you encounter any major problem while using the bookmaker. |
🌍 In What Countries Can I Register a BetWinner Account?
BetWinner is an international betting platform that is licensed in several countries across the globe. Some countries where you can register for a BetWinner account include Malawi, Nigeria, Russia, Ukraine, Belarus, Kazakhstan, Moldova, Abkhazia, Afghanistan, Albania, Algeria, Andorra, Angola, etc.
You can also complete the BetWinner registration in more than a hundred countries. You will find a few of them listed below.
Botswana
Burkina Faso
Burundi
Cameroon
Cape Verde
Central African Republic
Chad
Cote d'Ivoire
Egypt
Madagascar
Reasons to Sign Up with BetWinner Malawi
There are different benefits to registering on BetWinner. Apart from being able to access the website, you will get to place bets on your favourite games. This part of the BetWinner review will show you why bettors should register BetWinner accounts.
✅ Promotions and Bonuses
When you register on the betting platform for the first time, you are eligible to get a welcome bonus. New customers can access the 100% first deposit bonus when they use the appropriate bonus code during registration.
BetWinner also provides users with various other promotions besides the first deposit bonus. This could include cashback, insurance bets, accumulator of the day, birthday bonuses and casino bonuses.
✅ Variety of Sports
By registering an account on BetWinner, you can place bets on various sports available on the platform. Apart from football which is quite popular worldwide, you can wager on sports like Basketball, Baseball, Tennis, Ice Hockey, Cricket and others.
The platform allows bettors to bet on up to 50 sports, and the good thing is that each sport has various competitions and betting markets. As a result, you can wager on up to a thousand betting options daily.
✅ Mobile App
When you register on BetWinner, you can use the mobile app and get the best betting experience. The mobile app allows you to place bets from anywhere and anytime without being restricted by location. You will also use the push notification feature to follow up on your bets and get updates on new promotions on the bookmaker.
✅ Casino Games
Sports games are not the only events you can place a bet on the bookmaker. You can also wager on casino games. BetWinner provides thousands of casino games customers can play, including the most popular one, which is slots. Thanks to this, you are spoilt for options and will always find a game to wager on the platform.
✅ Politics and Weather
BetWinner does not only allow sports lovers to wager on the platforms, but the bookmaker also allows betting on politics and weather. So, if you are into politics, there are various options to wager on the betting platform. Also, if you know how to forecast weather, you will find a place on the betting site.
BetWinner Registration Malawi FAQ
Before creating an account with the betting platform, you can find the following answers to the frequently asked questions about BetWinner Malawi registration useful.
Yes, bettors can register BetWinner accounts in Malawi because the bookmaker allows Malawians to use the website. Visit the bookmaker website to create an account.
Yes, bettors can register BetWinner accounts using the mobile app. This will even give you a better betting experience. All you have to do is visit the BetWinner website, download the app, and open an account with the app.
BetWinner provides newly-registered users with a welcome bonus to appreciate them for registering on the website. New customers will get a 100% first deposit bonus when they create an account on BetWinner.
There are different reasons you may not be able to register on BetWinner. If you are in a country where BetWinner is not legal, you might not be able to register an account on the platform. Also, you must provide valid information when filling out the registration form. Lastly, you need to be connected to the internet to complete the BetWinner sign up process.